There are THREE things you can expect at a TILLY jam:
Pumping deep house with hot vocals
arms in the aiya!
and a DJ sporting the best kicks that money can buy (seriously – dude buys more shoes in a year than a chronic does buds)
Thankfully, we've teamed up with local dudes at Equaria to bring the unique experience of a tilly jam to Toronto!!
–>>click on the image to go to event details + ADVANCE TICKET SALES <<–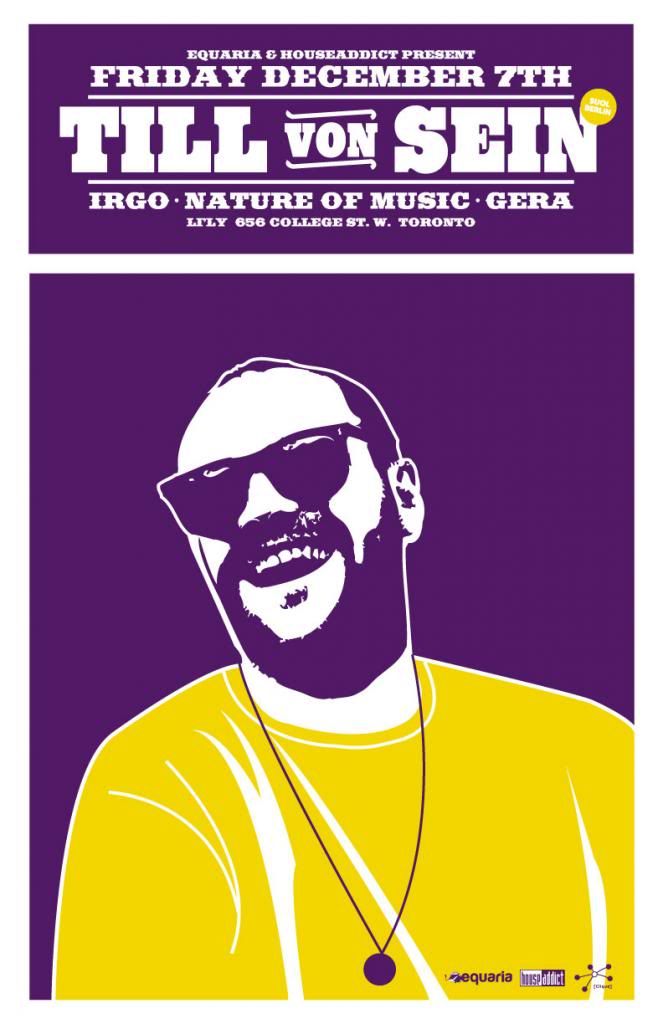 –>>A HARD WOIKIN MOFO<<–
TIll Von Sein
, like many of the artists we book, busts his ass on a weekly basis to bring his unique sounds to the world at large.  That's right, he's a true DIY'er (do it yourself!).  He's an artist/music producer, booking agent, world class DJ, and yea…..social media guru!!  If you want to follow a really entertaining person on Instagram hit up @tillvonsein.  Dude be postin about his life and times chillin in Berlin, as well as pix of his travels for performances.  Oh if only Toronto could get onto his Instagram feed in December…lol!
Believe it or not, Till's background is in hip hop and skateboarding.  He took that passion and actually ran a street-wear shop, before taking music production on full time.  So of course that history is evident in the work he does now.  Most recently, his latest EP out on SUOL is very non-traditional house music, with some amazing funk in it as well.  Here's the sampler:
[soundcloud params="auto_play=false&show_comments=true"]http://soundcloud.com/suol/till-von-sein-le-61-wurx[/soundcloud]
Actually, one of our favourite tracks of his is "Non Existent Love" from his debut album #LTD on SUOL back in 2011.  Very solid on the collaborations with Tigerskin, Lazarus, and Meggy!  A great house track, infused with acid : )
[youtube]http://www.youtube.com/watch?feature=player_embedded&v=Da1XcMxInX4[/youtube]
With productions that solid, it really is no wonder that the entire world gets to experience tilly jams.  Most recently, his performance at Studio 80 in Amsterdam was recorded.  This set combines chugging basslines with some amazing vocals (as indicated in the opening bullets of this blog!).  It's obvious tilly was a fan of the low end at this gig.  One can only imagine how the crowd reacted to this one, eh?  Can you imagine these bass-lines in the depths of L'ily on College?  Well….you won't have to  ; )
[soundcloud params="auto_play=false&show_comments=true"]http://soundcloud.com/tillvonsein/till-von-sein-resident-night[/soundcloud]
–>> OUR TILLY TEAM <<–
It wasn't hard to select a supporting team for Toronto's first tilly jam.  All of these dudes give his tracks regular plays in their sets, and well, it's also Gera's birthday, so we're honoured that he'd consider celebrating with us.  The team is as follows:
irGO // Nature of Music // Gera
P.S. Our photographer will be there shooting a gallery of everyone's kicks, so please get your favourite dancing shoes on.  We'll select the person with the hottest set of sneaks from our photo album, which will land you a door comp at our next event!!